Digital signage hire solutions.
Many businesses think that digital signage is out of their budget, but with digital signage hire businesses can try different solutions to find the best for their unique application. One thing is common place with organizations wanting to use digital signage and that is the need to increase profit, reported by Digital Signage Systems Limited.
Buying digital signage hardware.
With new technology, businesses want to invest in it, to show they are ahead of the game, yet they are tying up cash that can be used in other parts of their business. But the mind-set is that these businesses are investing in their future, yet there are simpler solutions to achieve this.
Hiring digital signage hardware.
Digital signage hire is increasing in demand, as more and more businesses see the benefits of digital advertising but are unsure of the solution they need. The dilemma could be to what solution to use, would a wall mount or floor standing solution work best?
Now companies can try out the hardware for a pre-arranged term, so they can see which works best for them, the content can be the same and the method of updating the ads can be different too, so see how it would affect the business model.
One of the most common questions we are asked, is what is the best method of updating the adverts, there are 2 solutions; manually and remotely using either the Cloud or a hardwired connection. Now businesses can try these out to see which will benefit their company most.
Manual updates, does rely on an employee taking on the responsibility and updating the content when needed, so you have to think about, what if they are off sick? Or just forget to do it? Using a remote connection the ads can be scheduled months in advance and updated during the evening when the outlet is closed.
Digital signage hire is one way to ensure that the content delivery is perfect, you can try both methods and see what works best for you and your business, as we all know businesses vary widely.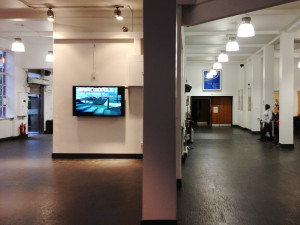 The customer has several decisions to make for their digital signage hire solution, these are as follows:
Wall or free standing hardware?
Size of screen?
Method of content delivery?
Length of digital signage hire term?
Once these are clarified, the solution can be configured to ensure the company can start using the hardware as soon as possible.
Digital signage hire costs.
Depending on the solution and length of the digital signage hire term, these can run at a few hundred pounds. But consider the tax advantages, as the hire costs can be off set against profit, as you do not own the product and it cannot be classed as an asset. But it is best to run through this with your business adviser or accountant.
Many hire street brands are hiring hardware, this enables them to update the hardware as and when new products come out, so their clientele associate the companies with being innovative and forward thinking. They are also seeing that the flexibility of hiring digital signage hardware over purchasing the hardware out right, keeping this trade secret of digital signage hire.
Comparing similar products it would cost in excess of £1000 for a 42″ wall mount digital display with media player, yet hiring the same hardware could run at £200 per week. But the benefits of the tax break is great indeed. This is why digital signage hire is increasing.
Now you have a basic understanding of hiring digital signage, so now the choice is down to you, will you be checking out a digital signage hire company?