Cellular digital signage solutions.
With billions of people on the planet owning a smartphone, cellular digital signage is fast becoming the most successful digital advertising medium, for instant success.
Cellular digital signage uses.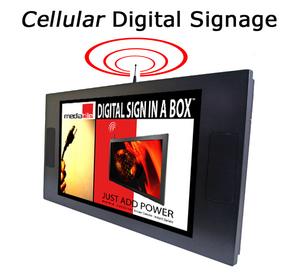 QR Code, we have seen these on signs, website and on promotional products. The idea is to scan the barcode with your smartphone, so make sure you have a QR code reader on your smartphone! Then you are taken to the webpage with the promotion or deal details on, so that you can redeem the offer. This provides the marketing company a way in which they can record who scanned the code and who redeemed it, so they can provide a detailed report to the retailer, while the retailer enjoys the uplift in sales.
Mobile Splash pages, these are webpages that are designed and search engine optimized for the market they are targeting. They again have special offers on the page and can be used with social networks such as Facebook or Twitter. So when they are shared and liked, the person redeeming them gets a greater discount but boosts the company profile on the social networking site.
Proximity marketing or Cellular Marketing?
These involve technology, proximity marketing needs a special media player, which the content is loaded onto and then ads are displayed to people who access the service. The service for example could be in a mall, so using day parting; restaurant owners can target people at breakfast, lunch or dinner. When they pass the location, the player sends a text message offering a free coffee with any breakfast roll ordered. This tends to increase sales, as the ads can be changed throughout the day to increase sales of profitable lines, around lunch and dinner with little investment. The return on investment is said to be around 3 months.
Cellular marketing is when a retail center offers free internet access and in return you are exposed to the odd advert from sponsors. This is an alternative to proximity marketing but depending on whom you speak with, the profits are different.
Building a business on cellular digital signage.
Once the hardware is purchased and installed, the costs range from $800 to $1500 including installation. So once it is installed in a mall, the occupants of the retail units can sponsor ads on the network and in return increase sales for their retail unit. These media players can hold up to 300 ads of 3 minutes long. Imagine if you charged $100 per month per ad, you could have an extra income stream of 300 ads x $100=$30,000 per month. So from the initial installation, profit is almost from day 1, with an income stream of $360,000 per year minus the initial investment.
Digital signage has been changing over the years, but now cellular digital signage is here.