Restaurant digital menu boards.
A restaurant needs to display its menu to potential customers to get them to buy the food; this is successfully done using digital menu boards, so the company can turn a profit.
Restaurants menus.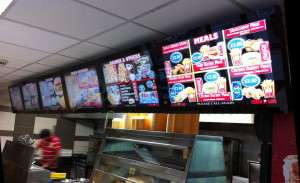 Have you ever entered a restaurant and thought where is the menu? When you are given one and read it, you can sometimes be left confused. The problem with the old printed menus is that there is no flexibility in them. The restaurant owner cannot put specials on, this is why they use unsightly blackboards and call them the "specials board".
Now if you are rushed, with choices from what type of bread you want, to what filling, what salad items you want on the deli roll and finally what sauce you want. If you are like me, you will have ordered the same thing for ages, because you do not have the time to think, however using a restaurant digital menu board, you can see the full menu in advance and read it, and decide on what you want for lunch before you get to the counter.
Digital menu boards – promoting specials.
This is when the digital menu boards come into their own, as the content can be changed within seconds. So a restaurant can use locally sourced produce at a more cost effective price and put a special deal on for lunch.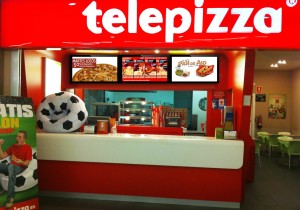 Then once the special is sold out and no produce is left, another special can be uploaded, ideally something that is a food overstock.
Using dayparting, the restaurant can have 3 sets of menus that are all displayed at different times of the day. One for breakfast, one for lunch and one for dinner, the times are set in the scheduling software built into the media player and at a preset time, the ads change to the next menu of the day. This prevents people having to remember that one mean has finished for the day.
Also using animation on these electronic menus while people are queuing, also acts as timewarping. This is when they are entertained with the content on the display and when they get to the front of the counter the perceived wait time is much less., this results in a better customer experience and this is what builds loyalty to your restaurant.
Not much investment is needed for these digital menu boards, as these are better off in larger sizes, such as 55" so only a few are needed. The screen can be zoned (split into sections), to promote different food items on the menu. This is the future for any forward thinking restaurant and Quick Serve Restaurant.
It has been proven that digital menu boards do increase sales, one QSR saw an increase of 8% in soda sales and 42% in burger sales compared to printed menu solutions in other identical restaurants. The only difference was one has a printed menu, the other has digital menu boards, now the chain has these electronic menus in every outlet.
Hopefully, you picked something out of this article that can help you and your restaurant, will you be thinking of using digital menu boards?