Money and fun using projectors.
Like all technology, projectors are being developed all the time, from the old OHP to the 4K projectors with awesome images. But let us look at some applications for entertainment and profit.
Projectors for profit.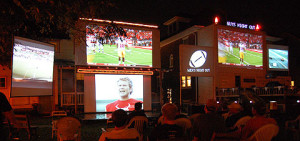 If you ever look round at a business you will see the technology that they have invested in, this can be computers, the latest smartphone and the 4K projector. Now one business sector is maximizing on the projector side and they are sports bars come restaurants. They operate during the normally daytime hours as a sports bar and when it becomes dark, the establishment transforms into an upmarket restaurant.
Now some business minded owners are using projectors outdoors, to promote discount and events on buildings, in a massive scale. One restaurant in Florida has set as ide Wednesday as couple's night, during this time they have romantic movies shown in the secluded garden adjacent to the sports bar, helping the couples put some magic back into their relationship. This has been a huge success, with Wednesday's restaurant reservations being booked solid, until mid-December from August!
Other bars and night clubs use these devices to promote their resident DJ's, or special drink offers, reports ProEnc (proencltd.com), who are a leading manufacturer in the projector housing industry.
Outdoor entertainment.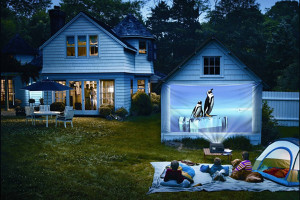 Like flat screen TV's, a projector are high in demand and coming down in price as new technology is launched, making outdoor entertainment at home or in the community a real possibility.
Projectors can be set up for the local home owners association and show a family movie over a weekend, when everyone can get together and share a meal. This is an ideal way to meet your neighbors and to catch up with people you may not have seen over the past few months, due to work schedules.
People are even deploying OHP's in their backyard, so they can be entertained while they chill out in the Jacuzzi, just remember the projector needs protecting from the weather and potential theft.
There are three solutions open to people who want to put projectors outdoors, the first is buy a commercially available outdoor units, but the problem is there is nothing on the market as yet. The next option is to bring the unit in every time you have finished watching whatever the device is showing, or lastly, or use an outdoor protective housing for the device, that will provide the essential protection from the weather and theft all in one unit.
Then you are free to set the projector up once and leave it outdoors all year, now does that sound like a plan? No matter what you choose, consider your options well, as newer projectors will be launched in the next 6 months.
No matter if you are using them for profit or fun, projectors are flexible.