Outdoor entertaining for everyone.
Creating a special outdoor area – an extension of your indoor living space, is a luxury which is well within our reach; whatever your budget.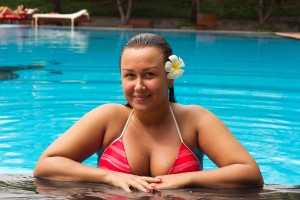 How much are you prepared to spend on outdoor entertaining?
There is the cheep and cheerful approach; setting out some chairs, a stereo and some candles for atmosphere, or there is the other extreme; a hot tub, programmed lighting, surround sound system, with garden speakers and a mega expensive projector. Which is your choice? Well, mine is the second, but a compromise can be found somewhere in between.
For the basics, of any garden or outdoor entertaining, would be the power supply. Most of us have an external power point, which is safe and convenient. From this you can add all sorts of technology. There are a range of garden speakers, but one thing to bear in mind is the weather – rain and electrics don't mix! There are water and weatherproof sets which are an economical price and these can also be placed near a water feature or hot tub – please read the packaging carefully for safety.
Another feature to add to the party is a projector. With this you can watch a sports event, music concert or film from the comfort of your sun bed, lounger or pool. Again, a major consideration for the projector is the security aspect and protection from the weather, dirt and other elements which will affect the performance and life span. If a projector and screen are just too big for your back yard; what about a television screen? Comfy chairs with a cold beer and the game on TV… For additional security and piece of mind you must seriously consider an LCD TV enclosure. With this you can leave the TV out all year round – it will be safe against vandals, theft and the weather as there is a thermostatically controlled heater and cooler to keep the temperature constant. How many TV screens would you have to replace, whereas the purchase of one security enclose will do the job.
So, there you are, proudly cooking a mouth-watering BBQ on the coals or spinning pizzas for your wood fired oven, ready to sit down to watch the ball game (think Baseball or the upcoming 2014 World Cup), you'll be the envy of the neighborhood – you've just got to get it passed by the 'boss' (aka the wife). So now you know about outdoor entertaining and
outdoor home cinemas
.