House of worship digital signage solutions.
Many religious worship places are turning to house of worship digital signage to spread the good work they do and the word of God. Including outdoor LED signs, video walls, multiple screens and interactive kiosks; as a way to interact with the wider community.
Outdoor LED signs for house of worship digital signage.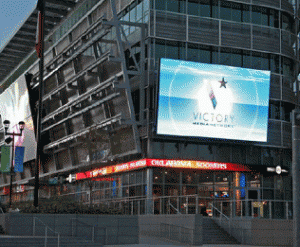 There are a lot of churches that deploy outdoor LED sign, in the form of a monument. These can be single or double sided, yet most importantly they can be seen in any light, even direct sunlight. These units come in a 3 foot square panel and are tilled together to create one large screen, that is high definition with a brightness that can be adjusted from 2,500 to 10,000 candelas.
The mounting frame is fitted into the monument and then the panels are clipped into place and secured into the frame. Content can be updated through a wireless connection or a hardwired link.
Advantages are; the screen can be seen at any time of the day, size can be as big or small as your budget will allow. This is one of the best solutions for outdoor advertising period! LED signs are proven to increase church sales quarter on quarter.
Disadvantages are; you need someone to run power and data to the monument as well as build the monument.
Indoor interactive kiosks.
These indoor units can be wall or free standing, with a choice of screen size and choice of media player, including Linux, Windows or Android. These units are simple to update and need no special training. It is as simple as drag and drop, just like uploading a website from a computer to the hosting.
These interactive houses of worship digital signage devices are used to get the congregation's opinion. They are also used to provide information on future events, how the house of worship allocated the donations given to the community and who needs prayers in the coming weeks. This can be for a job interview or someone going into hospital. These are one of the low cost solutions available.
Multiple screens.
Houses of worship are also turning to commercial grade screens in thought provoking configurations to provide a multimedia rich experience for the congregation. One church uses 22 x 46" displays in the form of crucifixes and like around the religious home of worship. These screens are used to inform the congregation of upcoming events and service. Ensuring that the congregation is immersed in the religious understand of what is happening in their community, so they are prepared to go out and know the challenges but are prepared for them.
These are only a few solutions available for house of worship digital signage.