3D digital signage – what to look out for.
A major American technology company today announced a significant evolution of a fresh approach to 3D display signage, which the company claims to maximize this new optical phenomenon from an standard viewpoint to reduce the influence of 3D-crosstalk and display motion image and improve 3D displays.
3D digital signage tracking.
The new 3D eye-tracking system, is as near as any technology has achieved thus far as it produces "smooth and realistic" 3D images, according to the company, and by combining the company's proprietary 3D image processing engine, there is no need for 3D glasses, as in the past. The company's technological breakthrough in their "auto stereoscopic" display method, incorporates a specialized eye-tracking device that detects the individual's eye position and engagement with a high level of accuracy.
As auto stereoscopic 3D digital signage displays become increasingly popular, there have been some issues to overcome that limit the value of 3D technology like; ghost images, image reversal and the limitation of suitable 3D viewing spaces. It is a fine balance between increasing the number of viewing points, yet decreasing the density of the 3D image. So, it is difficult to both minimize image reversal whilst achieving a high density 3D quality image. This dilemma appears to have been resolved without using a multiview 3D display, but by using only a two-view 3D display with high-density technology, its 3D image processing engine and an eye-tracking device. This system calculates the persons eye movements and varies the objects apparent position calculated on the view point without decreasing the quality of the 3D image.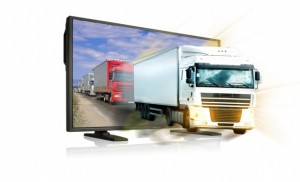 The picture operation software converts dual images, optimized for the main features of the auto stereoscopic display; which correspond with the observer's eye position, are detected by the eye-tracking device, and can optimize standard viewpoints to reduce the influence of 3D errors on the display position. The system monitors the observer's eye positions and varies the twin lenses based on the viewing angle of the object. This is a phenomenal tool for the development of 3D digital signage, where a product can be seen by the customer with an all-round view. It then becomes a virtual product, reducing the need for shop floor stock – freeing up expensive floor space.
This new 3D Technology, with the new 3D digital signage eye-tracking system, will be demonstrated at SID Display Week 2014 this week in San Diego USA.